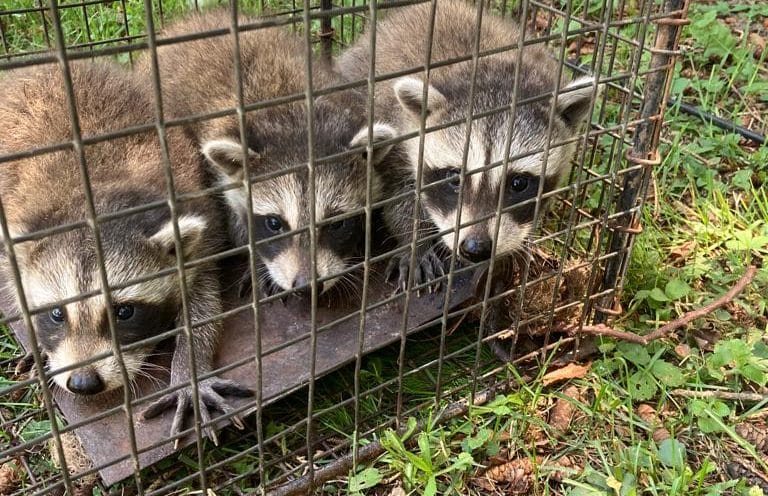 ONTARIO RACCOON REMOVAL EXPERTS
Ontario Raccoon Removal made Easy
Raccoon removal from attics and chimneys.

Raccoon removal from under decks.

Attic cleaning and restoring post raccoon removal.
Why choose The Critter Guy for your Raccoon Removal?
The Critter Guy focuses on getting the job done without overcomplicating it. We provide fair pricing, honest work, and a 5 year warranty guarantee. If you encounter any problems, we'll come back at no extra cost. We've done countless of jobs in Owen Sound, and look forward to helping you!
5 Year – Warranty Guarantee
Family owned small business
18 years of raccoon removal experience
Raccoons are pesky creatures that create habitat damage, eat our food, and carry disease. Raccoons can be a problem in residential homes as they nest high up off the ground or on roofs where there is no natural lighting to deter them from coming back! If you ever decide it's time for removal services, we offer full-service solutions including trapping + bait stations at various locations across Huron County, Grey Country, Bruce County, and more. So we'll always have an option when dealing with any type of raccoon removal or wildlife issue – whether large (like opossums) or small (squirrels). Are raccoons getting outta hand? Call us today!
Reviews of Ontario Raccoon Removal Customers
No one wants to have to call, but once you do you get the best service and a trustworthy team helping you deal with critters that aren't good for your house, even if they are cute. That was my experience. We called because of a raccoon in our floors and had it + babies removed humanely and super quickly. Can't say enough about how good it felt to know both the raccoon family and us would continue to live our lives, but separately and not in the same house 😊. Highly recommend.
Unbelievable Service, Knowledge and Expertise. Overwhelming Impressed. Keep up the great work!
Natasha Robinson
2023-04-12
These guys are great. Professional, nice and know what they are doing. I highly recommend Dave and Roman! Thanks guys!
This company is top notch. I had a problem for a few years with a small colony of little brown bats in my attic. They ended up making quite a mess, and after a couple of intrusions into the house, I called the Critter Guy for help. They showed up in a couple of days and did a price quote. David and Roman are the on-site team (and owners) and they came back at the appropriate time of year and did a complete inspection on my steep, mutlipitch roof. Sealed up all the possible areas of bat intrusion and installed 2 one-way escape doors. All the bats were gone within 2 days. On a third visit, their team did a complete clean-out and disinfection of the entire attic, and took all the waste materials with them. They left it clean and fresh smelling. The job was completed on budget, with no surprises. And best of all, they also provided a 5 year warranty against new intrusions. Throughout the process they were professional, courteous, respectful of my property, humanely dealt with the bats, very reasonably priced and left everything neat and clean. I would have them back anytime to deal with critter problems and highly recommend them. ! You won't go wrong hiring these Critter Guys !
Musadiq Farooque
2023-03-15
Bat removal was well done. Happy with their work.
My mom found bats in the house… we called The Critter Guy & they were quick to respond & took care of the issue. Very impressed with the bat removal from our attic. Now let's hope they don't come back!
Fixed my bat problem. If you need bat removal in owen sound, Dave is your guy!
While visiting my parents in Collingwood, we had some raccoons living under the house. Called the critter guy and Roman came to help. Honest and hard working, what more can you ask for. No more raccoon problems, and haven't been bothered since. If we do, they'll come back for free.
Another company quoted me double the price for getting rid of bats, and requested that I send pictures. Dave and Roman were cool, honest, and very reliable. I HIGHLY recommend The Critter Guys!
The raccoon is not only a sleek and agile creature but also clever. If you hear sounds coming from your roof or attic at night it could very well be these creatures making all of those pesky noises! They are omnivorous eaters who enjoy both plant-based foods like fruits and nuts as well as even animal meat. In an urban setting, they eat basically anything that they can find – garbage, small animals, plants, trees, etc. It's important to keep track of raccoon breeding cycles as well since it's these times that will be the most difficult. If you're hearing scratches and noise around March to June, you'll most likely be dealing with baby raccoons as well. They breed in February and March, and the pregnancies last about 60 days. Raccoons can have up to 8 pups.
Raccoon Health Concerns
Raccoon roundworm: transmitted through raccoon poop. It can (rarely) infect small children.

Canine roundworm: As the name implies – may infect dogs that come in contact with raccoon feces.

Common transmissions of ticks, fleas, and/or lice.

The most dangerous raccoon-transmitted disease is of course rabies, which can be fatal if untreated.
How to prevent raccoons from nesting in your home
The best way to keep raccoons out of your home is by closing all doors and windows, inspecting any open vents or chimneys for signs that they have been present before (such as tracks), capping them if necessary; also make sure there aren't any more entry points like damaged roofs. For those who live in areas where this problem occurs often- materials like wire mesh are ideal because they can be put up quickly without causing much damage when installed correctly! They're even able to squeeze underneath your deck if there's even a slight opening, so you should regularly be checking any structures in your backyard that could be used as a home for raccoons.
If you have a raccoon problem, it's crucial to confirm that they're all gone before caging up your chimney. There are usually young raccoon pups or babies present in March and July who might not yet be able to climb out of the habitat so check for them then too! The best way to keep raccoons out of your garden is by blocking access to all areas that they might use as toilets or latrines such as gardening patches, compost containers, and flower beds.
To keep raccoons out of your chimney, purchase a commercial cap from the store and then attach it securely on top. These caps can be found at most stores and will keep those pesky creatures from removing or breaking them! This device should be made with heavy material so that the raccoons cannot remove or break it. Research shows these animals will chew through just about any object if given enough time!
The best way to keep raccoons out of your attic is by making sure the eaves, roof, and overlay are in good condition. To notice raccoon damage you need to pay attention not just to shingles but also to the soffit (the lip at the front of the roof) or fascia which can be easily damaged if an animal tries entering through them! These areas are usually left unsecured since they offer decent protection, but over time, or with shoddy workmanship, an opening for raccoons starts to form.
To gain access to your roof, raccoons often come in, or jump in, using branches or other attachments like TV towers, antennas, etc. It's good practice to trim back any tree branches that come close to the house, which will allow them to get on easier. The harder you make it for raccoons, the less likely you'll have a problem.
Guarding your home against pesky raccoons is easy with the right precautions taken. Make sure there are no signs of any attempts to enter through corners or roofs, such as claw marks on walls where they try climbing up; wrap 1m x 1m squares around those vulnerable areas so that these animals can't get a toehold for climbing up the wall!
To keep baby raccoons out, ensure all ventilation holes are securely covered using heavy-duty screening. Make sure to install it over open-air vents as well! It's also important that the screening is rust-proof so that it does not weaken over time.
Any Raccoon Questions?
Contact us quickly with the form below:
How we remove your raccoon problems
1. Inspect the house for any access points and entry holes.
Raccoons are one of the most common pests in North America, and they can cause a lot of damage to your home if they get inside. Fortunately, there are a few telltale signs that can help you determine whether or not you have a raccoon problem. One of the most obvious is raccoon droppings. These are typically found near areas where raccoons have been active, such as in attics, crawl spaces, and basements. Raccoons also usually make a lot of noise when they're moving around, so if you hear unusual noises coming from your attic or walls, it's worth checking for raccoons. Finally, raccoons often tear up insulation and other materials in their search for food, so if you find shredded paper or fabric in your home, it's a good idea to call an exterminator. By being on the lookout for these signs, you can help protect your home from raccoon damage. The first order of business when dealing with a raccoon infestation is locating their access point so that it can be repaired after removing the pests. You should also inspect your home for any damages and make a list, along with all materials needed to fix these problems in order to come out on top!
2. Keep an eye out for Baby Raccoons
Raccoon babies are often born in late spring or early summer. If you think you may have raccoon babies in your home, there are a few things you can look for. First, raccoons are nocturnal animals, so you may hear them moving around at night. You might also see them during the day if they're getting into trash cans or raiding bird feeders. If you see raccoons during the day, it's a good indicator that they're looking for food for their young. Another tell-tale sign of raccoon babies is their size; raccoon babies are much smaller than adult raccoons, so if you see a small raccoon running around, it's likely a baby. Finally, raccoon babies usually travel in groups, so if you see more than one raccoon, there's a good chance they're parents with their young.
3. Utilizing Trapping to Remove Raccoons.
Trapping raccoons can be an effective way to remove them from your property. However, it's important to do so in a way that is humane and will not cause the raccoon undue stress or suffering. The most important thing to remember when trapping raccoons is to use a size-appropriate trap. Raccoons are medium-sized animals, so using a trap that is too small could result in the raccoon being injured, while using a trap that is too large could make it difficult for the raccoon to trigger the trap. Once you have selected an appropriate trap, baiting it with food that raccoons enjoy, such as chicken or fish, can help to attract them. It's also important to set the trap in an area where raccoons are likely to travel, such as along a fence line or near a food source. Once the raccoon has been caught in the trap, it should be relocated to a new location at least 10 miles away from your property to ensure that it does not come back. With proper care and attention, you can humanely trap and remove raccoons from your property.
4. Clean up, and Fix any Damage to the House
If you've had the unfortunate experience of dealing with raccoons in your attic, you know that getting rid of them is only half the battle. Once they're gone, you're left with the task of cleaning up their mess and repairing the damage they've done. The first step is to remove all the debris left behind by the raccoons. This includes everything from droppings to insulation that's been shredded for nesting material. Once you've got all the debris out, you can start repairing any damage to the structure of your attic. This may include patching holes in the walls or ceilings, repairing damaged insulation, and so on. Depending on the extent of the damage, this can be a big job. But once it's done, you can rest assured that your attic is safe and free of raccoons for good.
What are Signs you have Raccoons in Your House
Dropping inside the attic or in and around the roof/attic
Noises in the attic, such as scratches, barks, footsteps
Prints around the house and on the house walls
Commonly seeing raccoons around your property
Finding holes in sidings and foundation vents
Loose sidings and rusted vents
Out of place soffit panels or fascia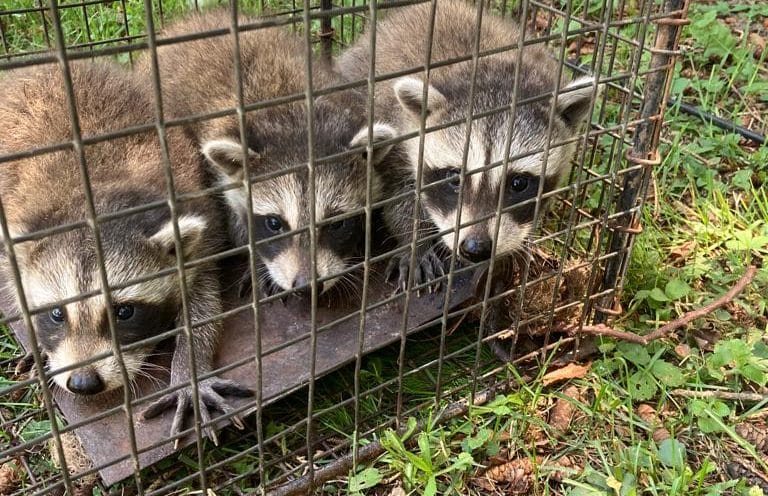 Offering Ontario Raccoon Removal in the following areas: